Staff

This is what you have to do to participate in our staff.All you have to do is make skins, floors, and walls. I will give you all the credit. Just don't steal them from other websites. You must remember their copyright. If you want to do this
email me
. Please check the rules below.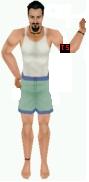 RULES:
GIVE ME THE FILE THAT HAS THE DOWNLOAD IN IT.
THEN GIVE ME YOUR NAME OR A NICKNAME.
IF THE DOWNLOAD(S) HAS A NAME GIVE ME THAT TOO IF IT HAS ONE.
IF YOU HAVE A SITE I'LL PUT THAT ON HERE WITH IT.
THANKS